SDI Scubility Dive Buddy Program
[mpc_tabs preset="mpc_preset_9″ tabs_position="left" active_tab="0″ decor_line="true" decor_color="#ffffff" decor_active="#0ca2e0″ decor_size="2″ decor_gap="5″ font_color="#6b6b6b" font_size="16″ font_line_height="1.75″ font_transform="none" font_align="left" content_padding_divider="true" content_padding_css="padding-top:0px;padding-bottom:10px;padding-left:20px;" background_color="#f3f3f3″ padding_css="padding:30px;" margin_divider="true" margin_css="margin-right:10px;margin-left:20px;" mpc_button__preset="mpc_preset_39″ mpc_button__font_color="#adadad" mpc_button__font_size="14″ mpc_button__font_transform="uppercase" mpc_button__font_align="right" mpc_button__border_css="border-width:0px;border-style:solid;border-radius:0px;" mpc_button__padding_divider="true" mpc_button__padding_css="padding-top:9px;padding-right:18px;padding-bottom:9px;padding-left:18px;" mpc_button__hover_font_color="#ffffff" mpc_button__hover_icon_color="#ffffff" mpc_button__hover_background_color="#0ca2e0″ mpc_button__hover_background_effect="slide-right" mpc_button__hover_border_css="border-color:#88d482;border-style:solid;border-radius:0px;" button_margin_divider="true" button_margin_css="margin-bottom:15px;"][mpc_tab title="Who Is This Course For" tab_id="1468979521-1-990b97-77af124b-1dbb21ed-7bfe"]
SDI Scubility Dive Buddy Program
The SDI Scubility Dive Buddy Program is the pre-requisite for the SDI Scubility Instructor course and is designed to develop the knowledge and necessary skills for an individual to effectively perform as a dive buddy for a physically disabled diver. The practical skills developed are the same as for the SDI Scubility Instructor, making the dive buddy course an important step in the development process.  Pre-requisites include being 18 years of age or 16 years of age with parental consent and demonstrate comfort in diving and adequate swimming skills.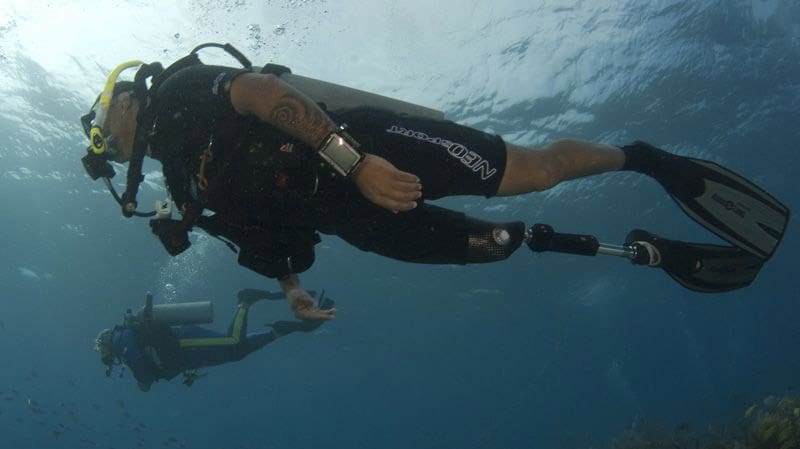 [/mpc_tab][mpc_tab title="What Does It Cover" tab_id="1468979521-2-230b97-77af124b-1dbb21ed-7bfe"]
The SDI Scubility Dive Buddy Diver Course takes an in-depth look at all of the following and more:
Background information

Instructor awareness
Public acceptance
Lifestyle and personality
Social integration

Common medical conditions and disabilities

Amputations
Asthma
Cerebral palsy
Diabetes
Epilepsy
Hearing disorders
Muscular dystrophy
Motor neurone
Multiple sclerosis
Sight impairment
Spinal injuries
Diving environment

Confined water
Open water

Accessibility

Access to confined water
Access to open water
[/mpc_tab][mpc_tab title="Required Skills" tab_id="1470073223735-7-821ed-7bfe"]
Students are required to successfully complete the following skills:
Sight impaired diver; show proficiency at giving and receiving tactile signals
Complete 2 open water dives as a dive buddy, 1 sight impaired, 1 paraplegic
Complete 2 open water dives as a student, 1 sight impaired and 1 paraplegic
Complete 1 confined water training session with sight impaired diver (real or simulated)
Equipment assembly / disassembly and adjustment
Weight system assembly / adjustment with proper weighting
Suiting up and de-suiting
Pre-dive check of self and buddy
Use of mask, fins and snorkel
Entries; assistance with controlled seated, back roll, giant stride entries
Equipment; suiting up of diver in the water
Equipment; removal of divers equipment in the water
Exits; assistance with shallow water and deep water exits SDI Instructor Manual
Tired diver tows
Communication; show good communication / understanding skills on surface and at depth
Dive planning; use of tables and PDC, logging of dives
Demonstrate sound judgment in dive site suitability planning
Demonstrate mature and sound judgment concerning dive emergency planning and execution
Complete all open water requirements safely and efficiently
Complete a panicked diver rescue drill (surface)
Complete a distressed diver rescue drill (at depth)
Be seen to be having fun during the course
[/mpc_tab][mpc_tab title="Prerequisites" tab_id="1468979855346-2-20b97-77af124b-1dbb21ed-7bfe"]
Course prerequisites:
Minimum age 18, 16 with parental consent
Provide proof of:

Current CPR and first aid certification
Rescue diver certification

OR
Advanced Diver certification with 40 logged open water dives.
[/mpc_tab][mpc_tab title="Cost" tab_id="1468979856576-3-00b97-77af124b-1dbb21ed-7bfe"]
Course Cost: $385.00
 Call For more info 1 877 837-7637
[/mpc_tab][mpc_tab title="Training Calendar" tab_id="1468979860028-6-100b97-77af124b-1dbb21ed-7bfe"]
Saguaro Training Calendar (for Arizona based divers)
[/mpc_tab][mpc_tab title="What Next" tab_id="1468979950880-7-100b97-77af124b-1dbb21ed-7bfe"]
Upon successful completion of this course, graduates may:
Upon successful completion of this course, graduates are able to conduct dives with physically disabled divers
Upon successful completion on this course, SDI Assistant Instructors are able to functions as a Scubility Assistant
SDI Open Water Scuba Diving Instructors are eligible to enroll in the upgrade course to become a Scubility Instructor
[/mpc_tab][mpc_tab title="Minimum Requirements" tab_id="1468979954444-8-50b97-77af124b-1dbb21ed-7bfe"]
In order to complete this course, students must:
Complete all open water requirements efficiently
Demonstrate mature and sound judgment concerning dive planning and execution
[/mpc_tab][/mpc_tabs]