SDI Open Water Diver Certification
IN MESA, ARIZONA

Course Cost
Full Certification $449:
Includes ELearning

Class & Pool

Lake Dives & Equipment Rental
Individually:
Elearning Code $99

Class & Pool Training $129.50

Lake Training Dives $220.50
SDI Open Water Diver
Certification
IN MESA, ARIZONA
Course Cost
Full Certification $449:
Includes ELearning

Class & Pool

Lake Dives & Equipment                                                Rental
Individually:
Elearning Code $99

Class & Pool Training $129.50

Lake Training Dives $220.50
HOW DOES IT WORK
Getting Certified Is an Easy Three-Step Process!
Step 1  is to complete the online eLearning academic training. Traditionally, it required attending several hours of formal classroom training. Now, through online training, you can complete this phase through self-study, at your own pace, in the convenience of your home or office, or anywhere you have an internet connection.
Step 2  is a brief couple-hour orientation class and complete your in-water (Pool) skill-development training with your SDI Instructor. This takes place in a swimming pool or similar body of confined water. Here you will learn the fundamental skills that every diver needs to know. (It's also a lot of fun.)
Step 3  is to complete four open-water training dives in 2 days under the supervision of your SDI Instructor. Here you will apply what you have learned during your academic and skill-development sessions while learning practical lessons that can only be gained through real-world experience in open water.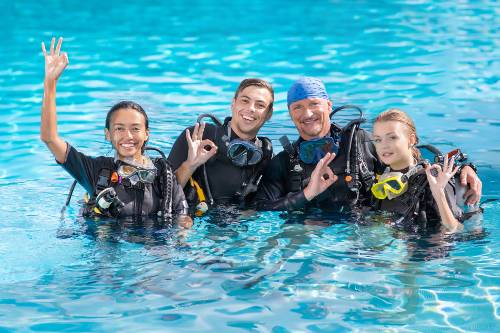 WHAT DOES IT COVER
Did you know that Planet Earth's surface is covered by more than 70% water? Our oceans and water systems, including lakes and rivers, control our climate and temperature, move weather patterns, and support living organisms yet remain mostly unexplored with 95% of it unseen by the human eye. You may go swimming in the ocean or snorkel over a reef, but now it's time to take it one step further. See the underwater world as it is meant to be experienced – underwater.
Become a part of an eco-system that supports so much of our life and take it to your limits; whether that is interacting with colorful schools of fish over a peaceful sea mount or diving alongside a pod of dolphins that have come to take a closer look. Dive with sharks, dive in caves or dive some of the most historic wrecks. Whatever direction you want to take your new lifestyle; it all begins here.
The SDI Open Water Scuba Diver course is designed to give you the necessary skills to safely conduct open water dives. This course is the key to start exploring dive destinations around the globe or even in your backyard.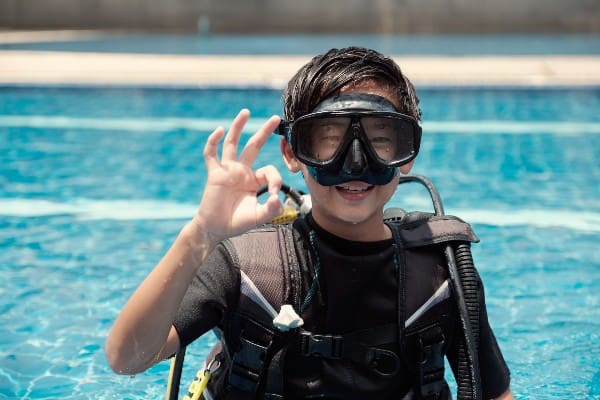 PREREQUISITES
PRIVATE LESSONS
Private Lessons Starting At $680.00
Do you want personalized training from one of our top-rated scuba professionals?  We understand that you have a busy life and we want to make your scuba experience as convenient and enjoyable as we possibly can.   Your personal instructor will work with you or your group to create a customizable schedule so conflicts will not get in the way of your learning.   Not only do we tailor this personal training to your schedule, but to your individual needs as a diver.  At Saguaro Scuba, we understand that everyone learns in different ways and works at their own pace.  This one-on-one training gives students the personal attention they need to dive into their next excursion feeling confident and comfortable.
Individuals and groups of  less than 4 people pay $680 per person which includes:
E-learning
In-person class learning
All pool dives
All lake dives
Rental equipment (BCD, regulator, octopus, tanks, wetsuit, dive computer)

Mask, snorkel, and fins are purchased or rented at an additional cost
Do you have a group of more than 4?  We would love to have private sessions with your group for just $449 per person.  In-person learning and lake dives will be scheduled specifically for your group.  However, please be aware that you may have a predetermined pool date due to limited pool availability for groups of over 4 people.  The group may be required to come in for a pool day with a class, but at the pool, you will be separated from the class with your very own instructor to work individually with your group.
Groups over 4 people pay $449 per person which includes:
E-learning
In-person class learning
All pool dives
All lake dives
Rental equipment (BCD, regulator, octopus, tanks, wetsuit, dive computer)

Mask, snorkel, and fins are purchased or rented at an additional cost
CALENDAR
ENROLL NOW
SDI Open Water Certification
$99.00 – $680.00
Learn to dive in Arizona with SDI and Saguaro Scuba. This ELearning course will teach you all of the dive theory and practical information required to begin your pool training and open water portions of your certification.
Product Description
Learn to dive in Mesa, Arizona
Saguaro Scuba and SDI offer this great course to all people who are interested in taking a scuba diving course and learning to dive.
Scuba diving is an incredible recreational activity which will allow you to get out and explore the oceans, lakes, and rivers around the world.
This ELearning Course is the first step in a three step certification which will give you all of the practical dive theory information which will be required to complete the pool portions of the course with a certified SDI Instructor, and then 4 open water dives.
Complete The Rest Of Your Training On Vacation
One really popular way to complete you certification is to complete the ELearning Course while you are home and prior to a planned vacation. You can then bring your paperwork proving you have completed this portion, and then you get to do all of the fun stuff while on vacation and don't have to spend a day in a classroom!
If you are interested in learning to scuba dive in Arizona, there is no one better to get started with than Saguaro Scuba. We have the best instructors, the largest inventory of scuba diving products, affordable equipment servicing, friendly staff, great group trips, and so much more! Come see us in Mesa, Arizona and get started with scuba diving!
Free Shipping Terms and Conditions:
Applies to orders greater than $100.00 on selected items. (Does not apply to tanks or weights)
Applies to UPS GROUND shipping rates only, within the Continental United States. Expedited shipping requests will be charged at applicable shipping rates.
Available only to the Continental United States.
Refunds for shipping on any returned items will be deducted by the amount charged for the non free shipped items only on the original order.
Valid with gift certificates & promotions.
We reserve the right to modify or cancel free shipping at any time.
Full Return Policy For Saguaro Products
New Product Returns: Save your receipt. Your purchase can be returned within 90 days for a hassle-free exchange or refund provided that the merchandise is in its original saleable condition, original packaging and it is returned with its original receipt. Returns without the original receipt will be made at Saguaro Scuba Inc. discretion. Specific details and exceptions are as follows:
Regular Stock Product Returns: Regular stock products can be returned within 90 days of purchase to Saguaro Scuba Inc. There is no restocking charge when returning regularly stocked merchandise.
Special Order Product Returns: Special order products can only be returned to the store within the time limit originally specified. Some special order products may have a restocking charge or may be non-returnable. In these cases we will inform you prior to ordering and we will note any special rules or restocking fees directly on your receipt.
Non-returnable Products: Computers, Electronics & Cameras are returnable only if they have not been installed or used and if they are in new original saleable condition and packaging. Clearance items are non-returnable.
Warranty Product Returns: Your purchase can be returned for a hassle-free replacement/repair provided that it is returned within the warranty terms and warranty period. The original receipt is required. Warranty returns without the original receipt will be made at Saguaro Scuba's discretion. Products with a replacement warranty will be exchanged free of charge. Products with a repair only warranty will be repaired in accordance with the manufacturer's or Saguaro Scuba Inc. terms and conditions. Warranty claims are limited to replacement/repair of the product only. We do not cover additional costs such as labor, incidental or consequential damages.
More Info
| | |
| --- | --- |
| Weight | 1 lbs |
| Dimensions | 4 × 8 × .25 in |
| Brand | |
| Elearning | Yes, No |
| Pool Training | Yes, No |
| Lake Dives | Yes, No |
FORMS
SDI vs. PADI

Getting Started With Scuba Diving – Which Certifying Agency Should You Choose?
So you have decided you are interested in becoming a scuba diver. You are considering starting your training and the first thing you come across is the fact that there are multiple training agencies that offer Open Water Courses. What is the difference? Which should I choose? Are both accepted around the world? Let us answer these questions for you.
The first thing you should know is that all of the major dive agencies are governed by the World Recreational Scuba Training Council (WRSTC). The WRSTC ensures that all of these agencies' courses meet certain minimum requirements for all of their courses. This is then relayed to the instructors from each of those agencies, which is then passed to the students. The fact of the matter is that the core curriculum in most of these courses is almost identical. So much so, that we often have students taking the PADI and SDI Courses alongside each other in the pool and during the open water dives with the same instructor completing both.
Why Is The PADI Course More Expensive?
The PADI eLearning portion of the course with Saguaro is priced at $175.50 while the SDI eLearning portion of their course is priced at $99. This is a significant difference and the only real explanation is that PADI has put a higher price point on their course. PADI is a much larger company with significantly more overhead and more marketing money being spent than SDI. If you buy the PADI eLearning Course directly through PADI, it will cost you $217.00 If you purchase the SDI eLearning Course directly through SDI, it will cost you $149.00 It certainly pays for you to shop through us rather than directly through the agencies!
With Saguaro Scuba we charge the exact same thing for your confined water portion ($104) and the 4 open water dives portion ($217.00) whether you are doing the PADI or SDI Certification. In total your SDI Certification will come out to $449 while the PADI Certification will come out to $549.50.
Are Both Certifications Accepted Around The World?
Absolutely. Any certification done with any of the agencies in the World Recreational Scuba Training Council (WRSTC) is accepted around the world. One great thing about SDI is that you will have an account with SDI where you can login and get a digital copy of your certification card if you ever happen to forget it on a trip. PADI offers a service to PADI Professionals where they can search up a customer's certification based upon name and birthday.
Do Both Have Options For Continuing Education?
Of course! PADI has a full range of courses that run from Discover Scuba right up to the professional level. SDI offers very similar advanced learning options. One thing that makes SDI unique is that their sister company TDI (Technical Diving International) offers a range of technical diving learning opportunities should you be interested as well.
In Summary
Which certifying agency and which course you choose is a personal decision for most divers. The quality of the course and the information and the knowledge which you will gain is very similar in both options. We tend to recommend new students to go down the SDI route. The $100.50 you save on the course can get you started with your own dive equipment! Mask, fins, snorkel, and boots sets at Saguaro start at $179.95.
SAGUARO SCUBA
908 E Impala Ave,
Mesa, AZ 85204
[email protected]
Phone: (877) 837-7637
Local: (480) 507-3988
Fax: (480) 892-7474
Hours:
Monday – Friday: 10:00 – 6:00
Saturday: 10:00 – 5:00