Welcome to Saguaro Scuba
Arizona's Only Discount Scuba Dive Shop
Saguaro Scuba located in Mesa, Arizona and services Scottsdale, Gilbert, Phoenix, Chandler and Tempe, Arizona. We are your one stop shop for everything scuba in the Phoenix, Arizona area. We offer all levels of Scuba Lessons and Certifications, discount scuba equipment, scuba travel and manufacturer approved Scuba equipment service and repair. Saguaro Scuba has been loyally serving our customers scuba diving needs since 1998 and have an incredibly knowledgeable and experienced staff to answer all of your diving or equipment related questions.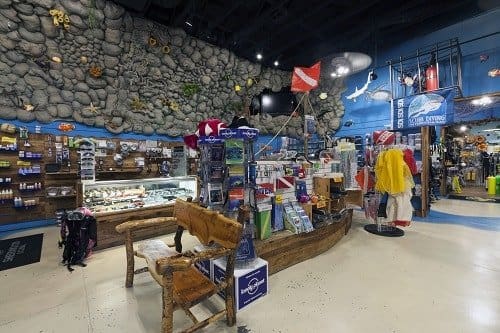 Arizona's Largest Inventory of Scuba Diving Equipment
Saguaro Scuba is Arizona's leader in scuba diving equipment. We have the best prices, the largest inventory, we carry most brands & match internet pricing. If you are looking for scuba diving gear in Mesa, Phoenix, Tempe, Chandler, Scottsdale or Arizona or elsewhere in the USA,  we're here to serve you! We have a huge inventory of new, used & rental Scuba gear in stock. If you're in Arizona drop in and see us, or have a look around our website.
Saguaro Scuba is proud to offer scuba lessons and certifications, from beginner to Instructor from PADI & SDI. Always at discounted prices. Our scuba instructors have decades of experience, so If you are looking for safe, fun, professional Scuba lessons in Mesa, Phoenix, Tempe, Chandler, Scottsdale or any where in the USA ,Saguaro is the right choice. Private scuba diving lessons are also available. You can learn to scuba dive in Arizona and then take your new found scuba skills on the road and travel to some great scuba diving destinations around the world.
Saguaro Scuba is Arizonas leading scuba service and repair facility. Manufacturer certified for service, repair and warranty service. Our staff has decades of experience repairing Scuba Regulators, BCDs, Compressors, and much more.
Saguaro Scuba organizes scuba diving trips each year from Phoenix, Arizona to exciting scuba diving destinations such as Cozumel, Roatan, Bonaire, and Grand Cayman, at discounted pricing. We are also happy to help arrange dive travel for your group or family to these locations always at discounted prices. Check out our Scuba Travel section.